Regional Transit Authority for Southeast Michigan Now!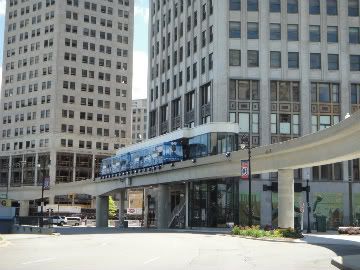 For the past year, Let's Save Michigan and our readers have been urging Governor Snyder to create a new vision for transportation in Michigan.

This week, the State Senate is poised to vote on one critical element of that new vision: a Regional Transit Authority.

For decades, southeast Michigan has been held back by its barely coordinated, underfunded transportation "system"–or lack thereof. Public transit in Metro Detroit is managed by multiple entities that lack incentives to work well together.

It's time to change that.

Metro Detroit needs one single public transit system, authorized by the Michigan Legislature. The state must authorize a Regional Transit Authority (RTA), which would create an entity to run the transit system, and would help it secure the necessary funding. Any day now, the State Senate is expected to vote on Senate Bills 909 and 911, which would create an effective RTA for southeast Michigan.

An RTA will make our regional transit system more efficient, convenient, and reliable, while stimulating job growth and economic development. It will also save residents money on car repairs, insurance, and gas.

To truly be successful, an RTA bill needs a few essential elements:
It should allow the RTA to levy a region-wide tax for funding, and the tax should be identified in the legislation.
The RTA bill should not permit communities within its jurisdiction to "opt-out." We all need to be on board for this to work.
The RTA should allow additional, contiguous communities to the original jurisdiction to join the RTA if they choose.
The RTA should have a board that represents both large and small urban communities, ensuring that all types of communities within the region have a voice.
An RTA is essential to make sure that Metro Detroiters can get to the jobs, education, health care, and cultural amenities they need. And a strong transit system in Detroit is important for the entire state: as Detroit bounces back, so to does Michigan.

So please, email your State Senator today to tell him or her that Southeast Michigan needs an RTA, now!

Together we can help Detroit, and Michigan, to take a major step into the 21st century.